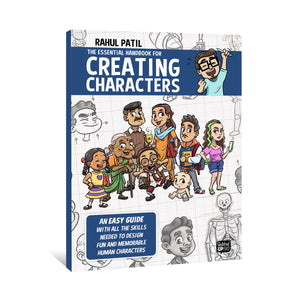 The Essential Handbook for Creating Characters
Rs. 2,499.00

Rs. 2,499.00
Tax included.
Shipping
calculated at checkout.
---
---
All orders shipped in 4-5 Business Days
**All India Free Shipping**
We cannot ship outside India. But you can buy a Digital Edition PDF.
In this book, I am going to share with you all the skills needed to start and create memorable human characters that I have picked up in my illustration career over the last four years. I have created hundreds of characters which you can see in my portfolio here.
This book contains tutorials and steps that you can take to learn the art of character design.
What you will Learn:
In the Drawing Section, I share the skills needed to draw human characters with basic anatomy, heads and full bodies, line of action, silhouettes and way more using exercises.
In the Designing Section, I cover different features like eyes, noses, hands, etc, using design elements like shapes, contrast, male vs female, body types, age groups, outfits, accessories and storytelling.
In the Presentation Section, I show how to test your character with expressions and poses and finally how to present it with turnarounds or a hero pose.
This book is suitable for beginners in Character Design as I explain everything in simple steps.
In the Gallery Section, you get 8 character designs that I have created to demonstrate the skills learned in the book. 4 Exclusive Character Designs, only in the print version.
Book Details:
Size: 7.5" x 10"

100 Full Color Pages

Soft Matte Cover

Signed by the Artist

High Quality Art Paper and beautiful colors.

Printed in India

4 Exclusive Character Designs, only in the print version.

Warm fuzzy feeling included for buying from and supporting a self published artist. :-)
---
We Also Recommend