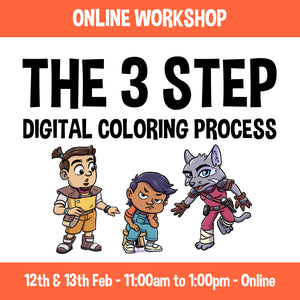 The 3 Step Digital Coloring Process - 2 Day Online Workshop - 12th & 13th Feb
Rs. 1,500.00

Rs. 1,500.00
Tax included.
Shipping
calculated at checkout.
---
---
This is a Two-Day Online Live Session. Limited Seats Available.
Do all your artworks look different when you color because of the tons of brushes and tools in digital art? Struggling to find the perfect streamlined coloring process?
In this session, I will teach you the step-by-step process that I use to color my characters and illustrations. I have used the same process to create two entire comic books that you can find here.
There are artists who start out as being colorists for others in many industries like the comic/graphic novel industry. Learning how to color in the right way is a great skill to learn.
For Beginner and Intermediate Levels

Date: February 12th & 13th, 2022
Time: 
Session 1: Feb 12th 11am IST (2 Hours)

Session 2: Feb 13th 11am IST (2 Hours)
Place: Google Meet
Joining details will be emailed to you one day prior to the session.

Tools Needed:

Ipad + Procreate App
The focus will be on the digital coloring process. Skills taught will be transferrable to any digital medium (Photoshop, Sketchbook, etc)

Things covered in this workshop:
The focus of this workshop is learning a streamlined digital coloring process that can be applied to any digital art. All Lineart will be provided ready for coloring.
Session 1:
The Fundamentals of Digital Coloring

The 3 Step Coloring Process

Understanding Light and Shadow

Coloring Basic 3D shapes
Applying techniques to complex 3D shapes
Coloring Characters
Session 2:
Advanced 3 Step Coloring Process
Applying the Advanced Coloring Process
Coloring a full illustration (Final Project)
The session is interactive so be ready to show your face :)
Note: Basic knowledge to know in your preferred drawing software - Importing images, Selecting, Transforming, Brushes, Eraser, Layers. (will be taught using Procreate)
Final Illustrations in Previous Sessions:

Note: This is a Live Session and No Recorded Session will be available. If for any reason you aren't able to attend, email us for joining the next available session of the same.
For any technical issues email me at [email protected]
---
We Also Recommend